Product Description
The perfect birder's shirt for casual dress. This short-sleeved, 100% cotton shirt with two breast pockets is a BigPockets exclusive, discovered on a birding trip to Panama. Each Panama shirt is covered in brilliantly colored, bird motif molas (traditional Kuna Indian textile).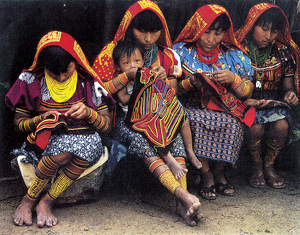 The Kunas lived in Panama when the conquistadors arrived. They make molas by laying colored squares of cotton atop one another and cutting through the upper layers to make designs. The layers are hand-sewn with very fine, evenly spaced stitches, using thread that matches the fabric. Molas are an art form, and no two molas are exactly alike. BigPockets exclusive molas feature Kuna traditional designs in reverse appliqué for kingfishers, manakins, barbets, trogans, and tanagers. The molas are sewn onto shirts in Panama. Machine washable.
Please note: Molas will vary on items.