Product Description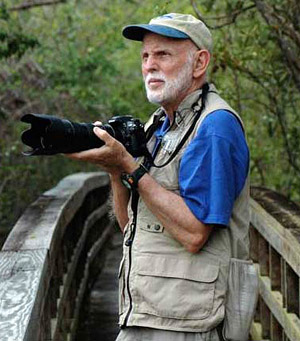 Over the years some customers suggested additional features for our Tropical Vest. The most frequent requests were for an easily accessible and secure cell-phone pocket, and a notebook-and-pen pocket. Our new Equatorial Vest is exactly like our Tropical Vest but with the two added pockets. Some customers prefer the original Tropical Vest because its numerous pockets can also be used for a cell phone, notebook, and pen, and those customers don't want the chest pockets. Both vests are machine washable and made in America.
Another customer request was an iPad zippered pocket, which both vests now have. All extra-small vests, however, cannot accommodate the iPad. Those zippered pockets are about 8 x 9 inches.
Our vests feature padded shoulders to improve comfort while carrying a tripod or shoulder strap, as well as a snap belt to distribute weight evenly when pockets are loaded up with items. The pockets vary in sizes, from an inner zippered security pocket to large pockets that accommodate binoculars, iPads, camera lenses, the largest field guides (including Sibley), water bottles, and other items you need while birding, hiking, or enjoying the outdoors. Customers also tell us that these vests are perfect for animal training, photography, outdoor recreation, and other activities. The fabric is luxuriously soft and durable, dries quickly, and weighs only 14.5 oz., taking up little space in your suitcase.
EQUATORIAL VEST FABRIC
12 BigPockets:
2 zippered chest/binocular pockets 9.5 x 12 in.
1 zippered inside security pocket 4 x 7 in.
2 pen/small notebook pockets 4.5 x 4.25 in.
2 zippered iPad pockets* 10.5 x 9 in.
2 pockets with Velcro flap 5.5 x 7.5 in.
2 water-bottle pockets expand to 5 x 8 in.
1 zippered back pocket 8 x 14 in.
*XS vests cannot accommodate the iPad
The vest was given the name "Equatorial" because of its unique fabric. Customers wanted a functional, lightweight, durable, non-rustling vest with lots of big pockets that was comfortable in hot weather. Weighing only 14.5 oz., this lightweight 100% nylon fabric wicks moisture away from your skin, allowing the garment to dry quickly. It is antimicrobial, stain resistant, and breathable. The soft mesh lining has a cooling effect and allows the vest to be comfortably worn over other clothing. The vest packs down to very little space when traveling, and it is machine washable.
The vest color for the Tropical and Equatorial Vests is the same. The khaki color looks lighter in the sun.
OTHER FEATURES
The shoulders are padded to improve comfort while carrying items on your shoulder, such as a tripod or shoulder bag. There are D-rings on the front below the shoulder pads for sunglasses or anything with a strap.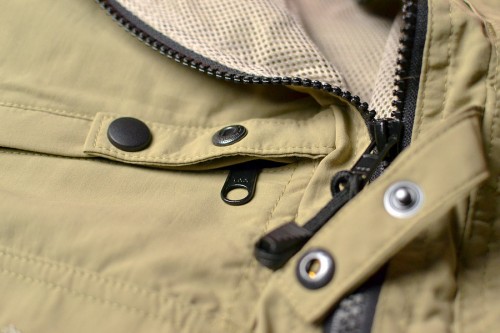 The pattern-maker's challenge was to find a way to distribute weight away from the neck and shoulders and from the front and back when the pockets are loaded up with heavy items while the vest is worn open. A snap belt in the front can be used to distribute weight evenly when the vest is not zipped up. The snap belt is conveniently secured to the vest, when not needed. The special collar protects the neck when using items, such as binoculars and cameras, that have neck straps. There is a loop inside the collar for hanging the vest up on a hook.
Side slits on bottom of each side of the vest allow for easy movement when walking.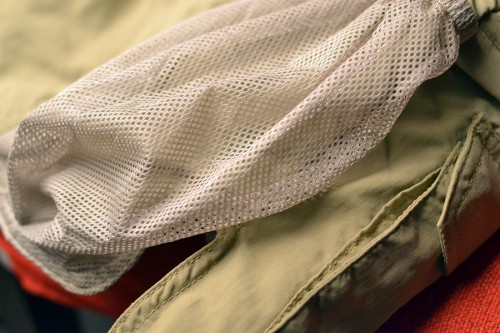 The 2 large pockets on each side of the chest are called the "Binocular Pockets" because large items, such as binoculars and camera lenses, can fit in these roomy pockets and are easily accessible. Inside one Binocular Chest Pocket is a hidden, zippered pocket for a passport and wallet.
On the front, there are 4 more pockets, also easily accessible. Two zippered pockets will accommodate iPads, large field guides, lenses, or other large items. The two Velcro pockets are perfect for small field guides, snacks, and other gear.
On both sides of the vest there are mesh water-bottle pockets with elastic at the tops to hold the bottles securely. In the back of the vest, there is an over-sized, zippered pocket for large items.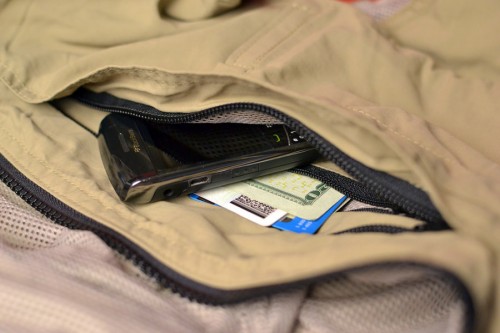 Most customers use the Equatorial Vest year-round. It can be worn over shirts in the summer or sweaters in the winter. There is no other vest on the market like this one!
There are 2 pen/notebook pockets at chest level on the front of the vest. The wearer's left pocket has a slot, which can hold two pens/pencils. The rest of the pocket and the wearer's right pocket have a Velcro closure, which can also be worn open for easy access to a small notebook. The small pockets can also be used for a cell phone.